<![if !vml]>

<![endif]>
<![if !vml]>

<![endif]>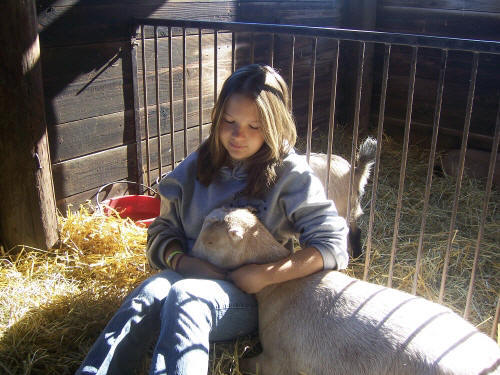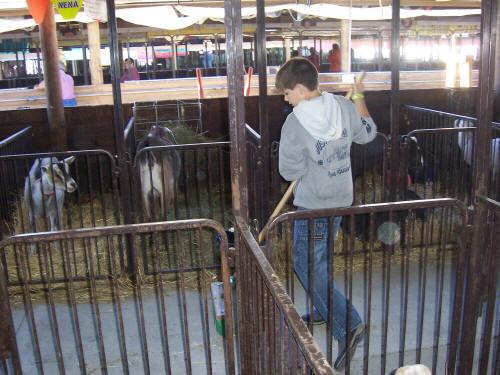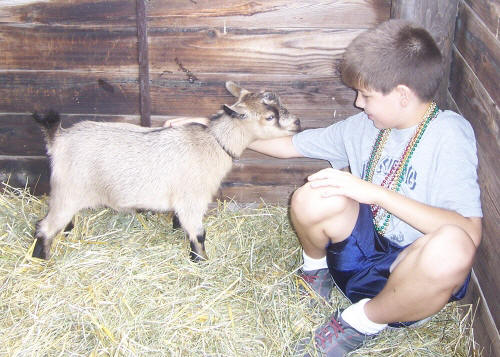 Pam and Nilla Tom and Barn Duty Tom and Carmelle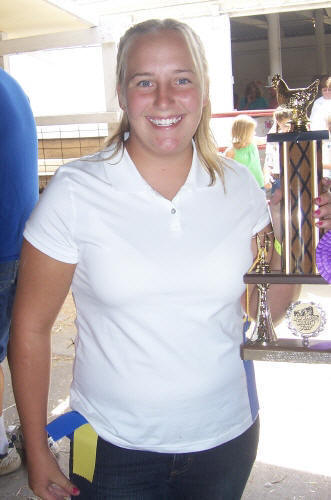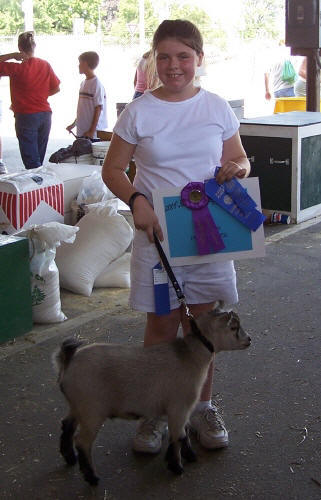 Meaghan wins Chicken Showmanship! And at the Sandusky County Fair...Tara and Andy (Treefrog Pygmies Musketeer)
take Grand Champion Wether!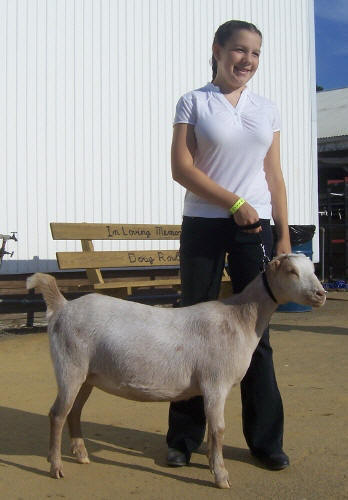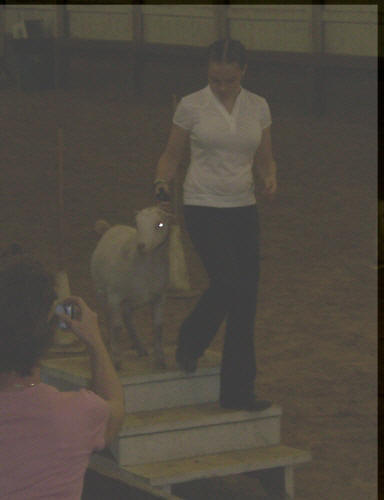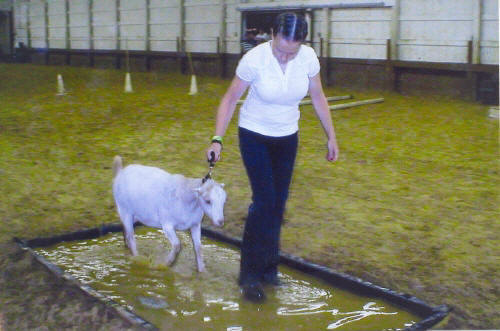 Pam and Nilla do an awesome job in Pack Goat Level One! For those of you who don't know, goats really don't like getting their feet wet!
After a lot of hard work and running, the outcome was...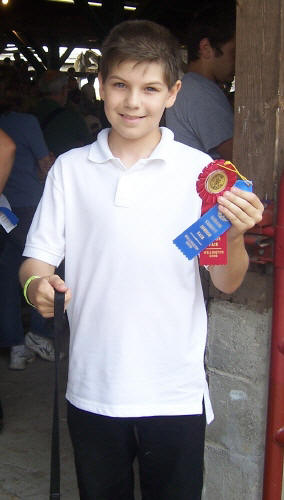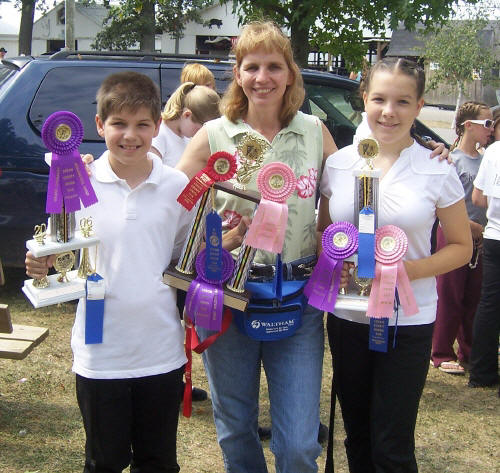 Tom got 2nd in his Showmanship with Ember. TreeFrog Pygmies Carmelle and Jolly Rancher took Grand Champion in Baby Doe and Baby Wether. Ember took Reserve Champion in Junior Doe. PJ'sKids Splash's Little Shadow took Reserve Champion in Yearling Doe, and PJ'sKids Sidekick took Grand Champion in Yearling Wether!
<![if !vml]>

<![endif]>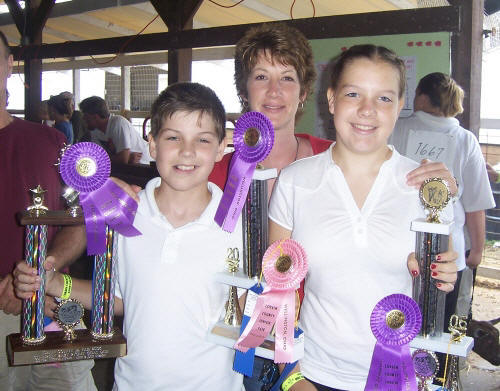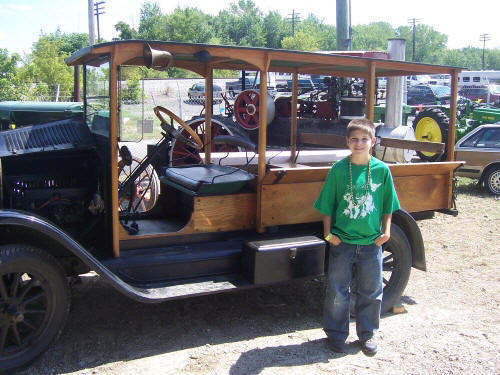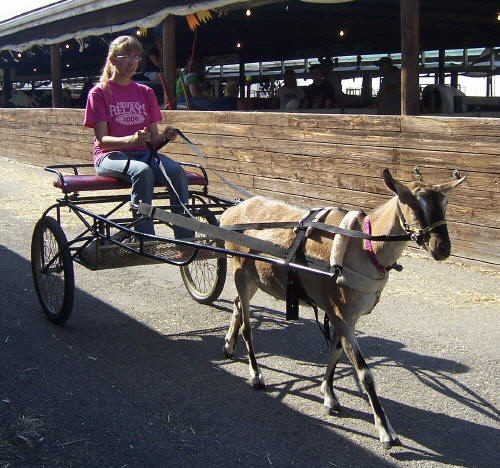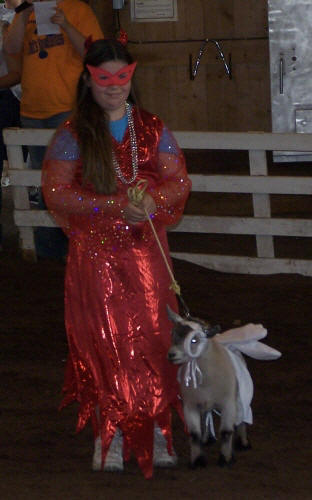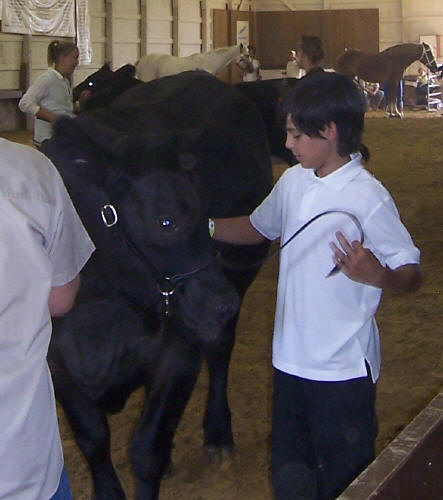 Tired Goaties!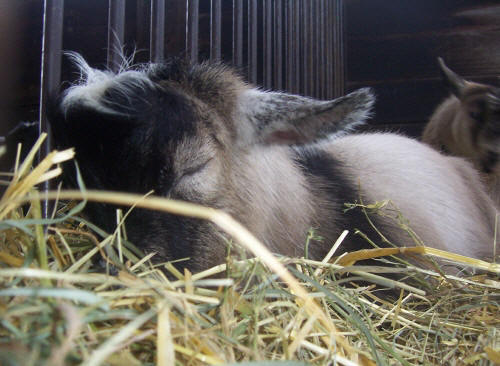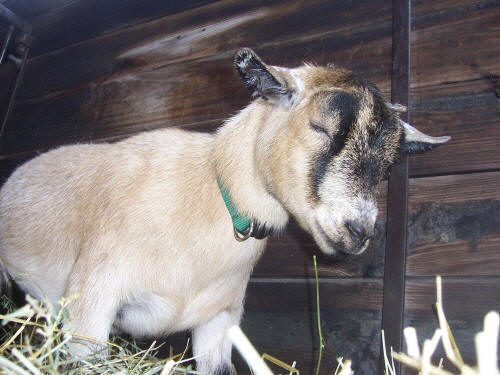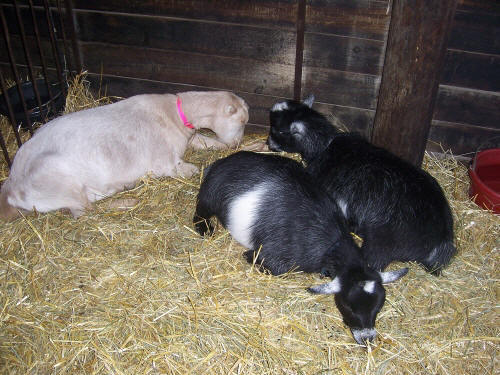 <![if !vml]>

<![endif]>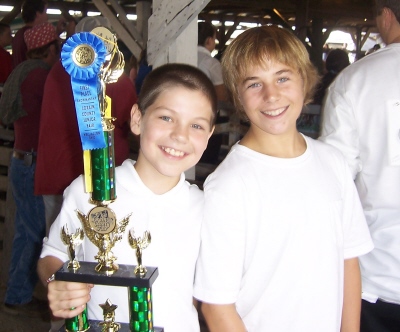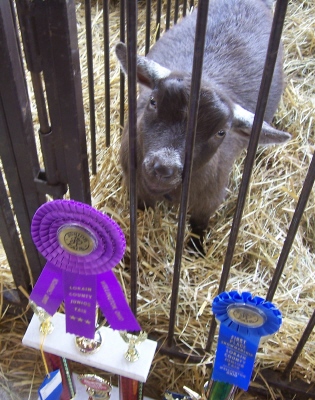 Tom took first in his Showmanship class with Snickers, and Grand Champion with Latte in Yearling Doe.
He then went on to get Reserve Champion in the Showmanship of Showmanship!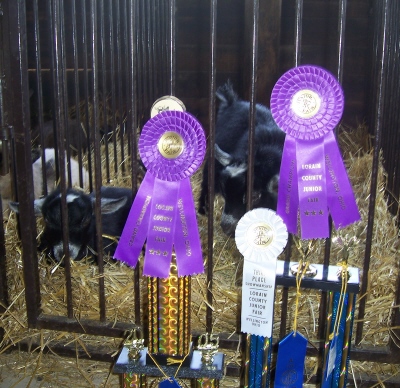 Pam got third in her Showmanship class!
Pam's babies won Champion Baby Doe and Champion Baby Wether! They also won first in their classes the day before in the Open Show!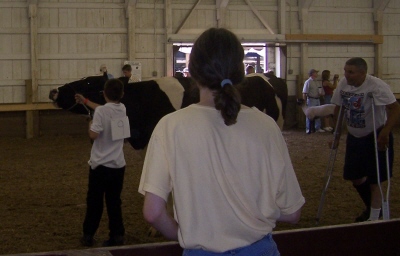 Tom got to show all kinds of animals in the Showmanship Sweepstakes class! He did not like the pig or sheep but did very well with the other animals, like the dairy cow (above).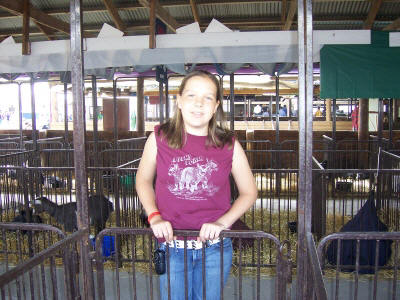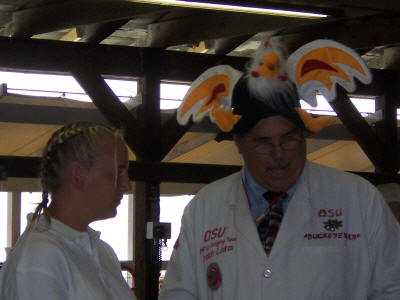 Pam hanging out in the goat barn. Meaghan Bari in Chicken Showmanship!
<![if !vml]>

<![endif]>
(Thanks for the pictures, Tammy!)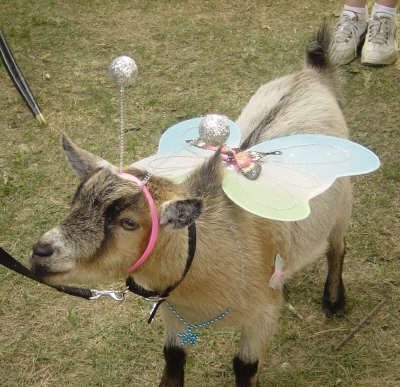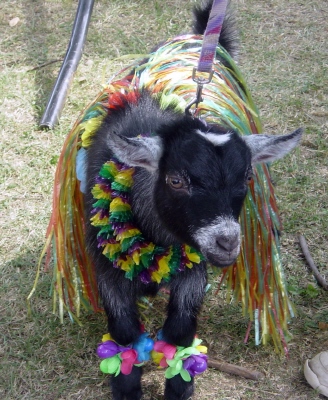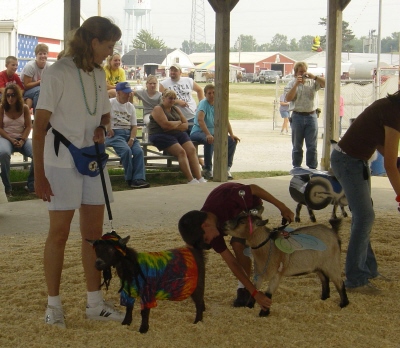 <![if !vml]>

<![endif]>
<![if !vml]>

<![endif]>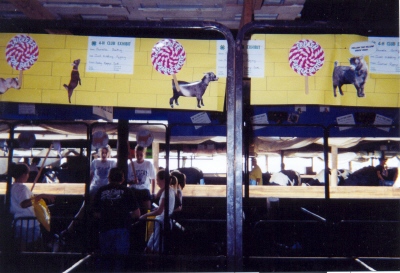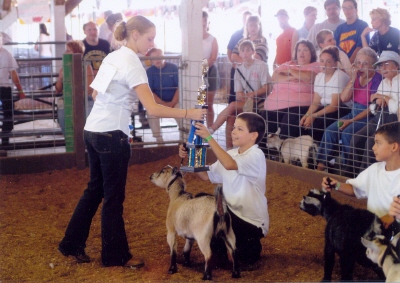 Tom and Snick win in Beginner's Showmanship!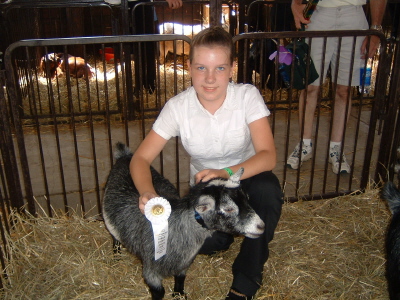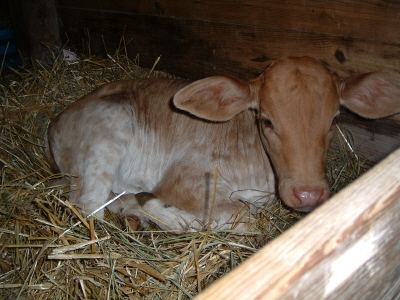 Pam and Splash get third in Intermediate Showmanship! A Brahma calf.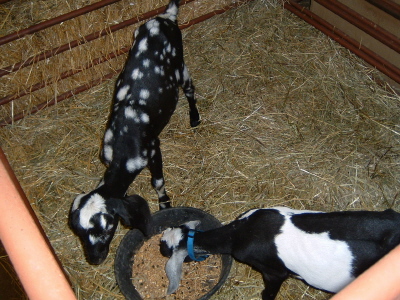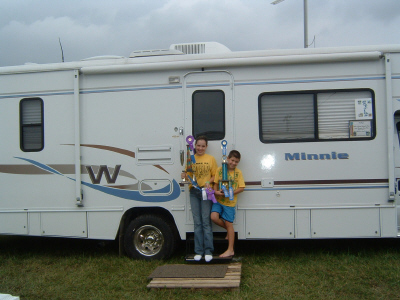 Spots and Dots! Home for the week, a Minnie Winnie.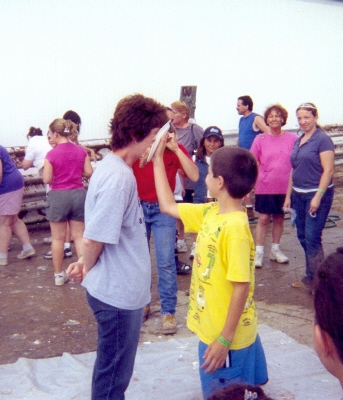 Tom gets to pie his 4-H advisor because our club won "Penny Wars!"
<![if !vml]>

<![endif]>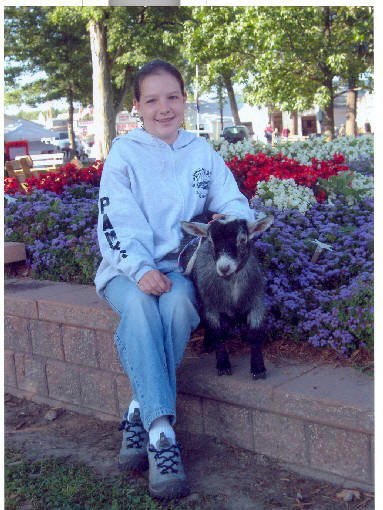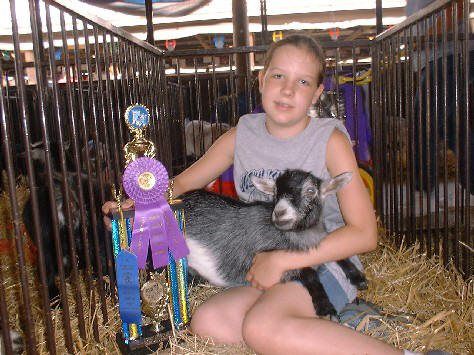 Pam and Splash bring home Grand Champion Jr. Pygmy Doe!!!!!
<![if !vml]>

<![endif]>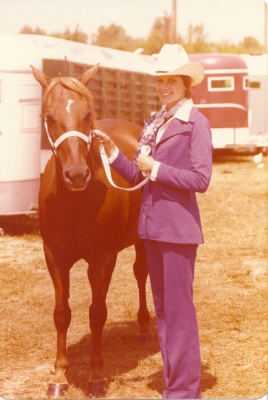 Jane & Kentucky Babe going in to Showmanship.